Music/iTunes has limited ability to read metadata from WAV files. In the case of WAV files, Music/iTunes rely on storing the tags in their database. So, whenever you add files from Finder to Music/iTunes, you end up with the result like in the screenshot below when Music/iTunes fails to read anything from your WAV files.

Music/iTunes window with empty WAV metadata
Such a result is frustrating because Tag Editor shows all metadata embedded into your WAV files.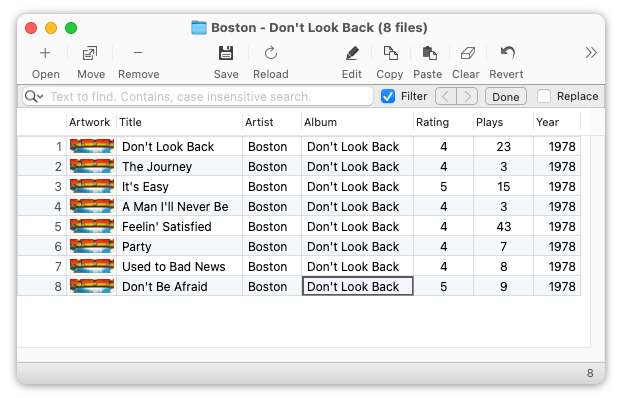 Tag Editor window with WAV tags
Export to Music/iTunes playlist
When your WAV files are not in iTunes/Music yet, the easiest way to send them there is via the File / Export To / iTunes/Music menu command.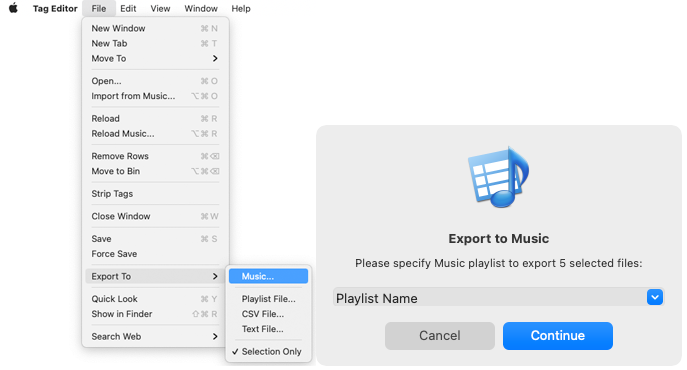 Export to Music window in Tag Editor for Mac.
Reload Music command
You can already have some WAV files with empty metadata in your Music/iTunes library. Fortunately, the Tag Editor can fix this issue by transferring tags from WAV files to the iTunes/Music database.
To transfer WAV metadata to the Music database, use the menu function File / Reload Music or keyboard shortcut ⌥⌘R. In the Reload Music window, select your playlist, containing WAV files.
The option 'Override Music database' should be checked here. This option tells the Tag Editor it should transfer the metadata from WAV files to the Music database by itself, without relying on Music/iTunes.
If you are refreshing this Music playlist, not for the first time and want to save Ratings and Plays, perhaps it makes sense to import them into WAV files before.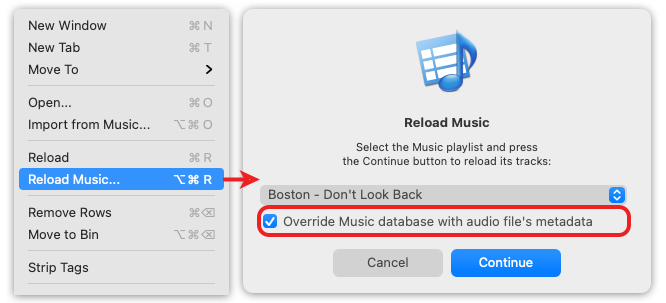 Reload Music window in Tag Editor for Mac
When everything is ready, press the Continue button. When the transferring is finished, the Tag Editor will propose to open the Music/iTunes playlist.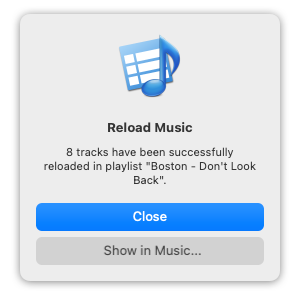 WAV metadata has been transferred to Music/iTunes database
Read More: How can I refresh iTunes/Music database? >>
Read More: How can I import iTunes/Music Ratings and Plays into audio files? >>
Read More: Export to Music/iTunes >>