Rows in the Tag Editor spreadsheet represent audio files. Every cell in a row corresponds to a song's filename, tag, such as Artwork, Artist, and others; or file property, such as Duration, Sample Rate, etc.
To streamline batch tagging, you can sort audio files, add, remove, or move rows between windows and tabs. For example, you can sort large music collection by Artist column, and then move songs between windows according to their Artist tags.
---
Sort rows in Tag Editor
Tag Editor allows sorting audio files by a column. Files can be sorted in alphabetical order, or by increasing or decreasing numbers. When you sort, the files in the table rearrange accordingly.
To sort songs by a column, just click a column header. For example, to sort music by Album, click the Album column header. To sort songs by their Track number, click the header of the Track # column.
To change sorting order from ascending to descending or backward, click the column header again.
---
Move rows between windows and tabs
To move selected rows between Tag Editor windows or tabs, press the Move button in the toolbar and choose a window or a tab where files should be moved.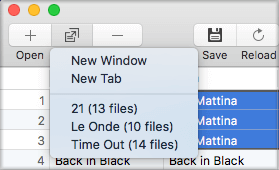 Moving selected audio tracks to another window or tab.
---
Remove rows from Tag Editor spreadsheet
To remove selected rows from the Tag Editor spreadsheet press ⌘⌫, or click Remove button in the toolbar. 
Removing rows from the Tag Editor spreadsheet will not delete files associated with rows.