iTunes/Music maintains their own internal metadata database, a copy of audio metadata stored in audio files. So, when the Tag Editor updates the metadata in audio files, iTunes/Music should refresh its database somehow. Sadly, none of them does that automatically.
Fortunately, the Tag Editor resolves the issues with refreshing iTunes/Music database.
Reload Music command
Suppose you edited tags in audio files that are already in some iTunes or Music playlist. If you want to see changes in iTunes/Music database, the Reload Music menu command could be helpful in this case. With this menu command, you can easily avoid removing/adding tracks to the iTunes/Music and make it do its job - refreshing tags.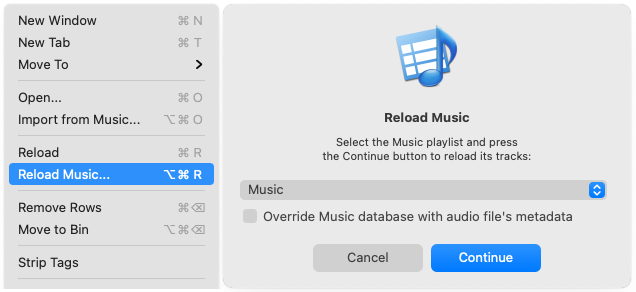 Reload Music window in Music/iTunes.
Read More: Refresh Audio Metadata in Music or iTunes >>
Read More: Why is the WAV metadata not showing in Music/iTunes? >>
Read More: How can I refresh iTunes/Music database after making changes in Tag Editor? >>
Export to iTunes/Music playlist
When your audio tracks are not in iTunes/Music yet, the easiest way to send them there is via the File / Export To / iTunes/Music menu command.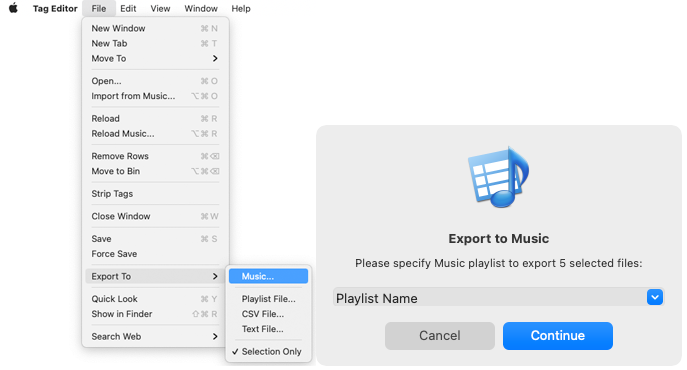 Export to Music window in Tag Editor for Mac.