When you have finished tagging your audio files, it often makes sense to provide files to the iTunes/Music for further playing.
Issues with Music / iTunes
It is always possible to drag the folder from Finder to Music. However, a few issues might arise in such cases:
Music won't import some metadata, such as Rating and PlayCount.
Music has limited support of WAV and AIFF files. In the case of WAV or AIFF files, Music might skip most audio tags, including artwork.
When the tagged files already in the Music database, it becomes tricky to make Music reread the audio metadata and refresh its database.
Export to Music / iTunes
You can solve all the issues above with the 'Export to Music' feature built into the Tag Editor. To transfer audio files to Music from the Tag Editor, do a few easy steps:
Select a few files in the Tag Editor.
Choose the menu 'File / Export To / Music'.
In the new window, 'Export to Music', select the name of the destination playlist.
Press the 'Continue' button.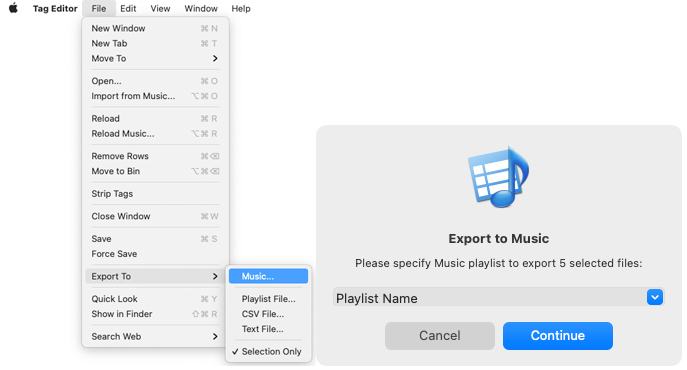 'Export to Music' window in Tag Editor for Mac
After exporting from Tag Editor, iTunes / Music should update songs info across all its playlists containing them.
If you need to make further changes to the same audio files, you can start editing audio metadata. Later you can export to the same Music playlist again. In such a case, before exporting, Tag Editor will check the destination playlist and avoid adding duplicates.
Read More: Export to Audio Playlists >>
Read More: Export to Text and CSV files >>
Read More: Organize Music / iTunes Library >>