Correct and structured audio filenames greatly facilitate music search and removing of duplicated songs, while proper numbering in names ensures proper order of files during playback.
Tag Editor is ideal for editing and unification of audio filenames. Spreadsheet format allows you to check, edit, and automatically standardize the names of multiple files in a single table.
Tag Editor allows renaming in the manual and automatic mode.
Renaming in Automatic Mode
Automatic mode allows creating filenames using pattern of tags' values, such as Track# - Artist - Title. We recommend batch automatic renaming only after verification of corresponding audio metadata, such as Track #, Artist, Title, Album Artist, Album, Year.
Select a single cell, few cells, or entire File Name column.
Click on the circle with three dots to open the Name Options contextual menu.
Choose values of which filename should consist of and symbols that should separate the tags in the Name Options menu.
Click Rename to apply changes to the selected cells.
If you are happy with renaming, press Option+S to save them. If you are not, you can revert changes using Option+Z keys.
Renaming in Manual Mode
To change filenames in manual mode, just select cells in the "File Name" column and modify them as any audio metadata cells. We recommend using Copy-Paste and Find-Replace functions for speeding up the manual renaming.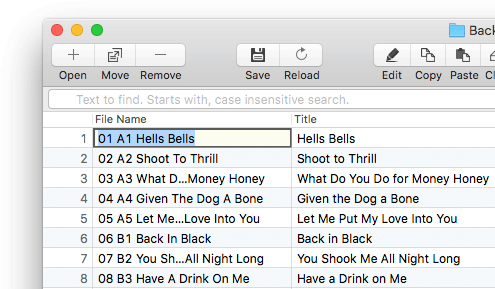 Typing in a filename with Tag Editor for Mac