The toolbar at the top of the Tag Editor window gives you quick access to the most used controls. To customize the toolbar for your own work style, you can add, remove, resize, and rearrange toolbar buttons.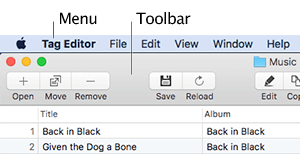 Menu and toolbar in Tag Editor for Mac
---
Hide / Show toolbar
Choose View > Hide Toolbar or View > Show Toolbar in the Tag Editor menu at the top of your screen.
---
Customize toolbar contents
1. To open toolbar customization panel right-click on the toolbar and choose Customize Toolbar in the pop-up menu. You can also choose View > Customize Toolbar in the application menu.
2. Undertake any of the following actions:
To remove items, such as buttons or spaces, from the toolbar just drag them away. Please, note that joined buttons, such as Save and Reload, can not be separated and move together.
To add an item, drag it to the toolbar.
To rearrange buttons or spaces between them, drag an item to the left or right of another item. 
To restore the original set of buttons, drag the default set from the bottom of the window into the toolbar.
3. Click 'Done".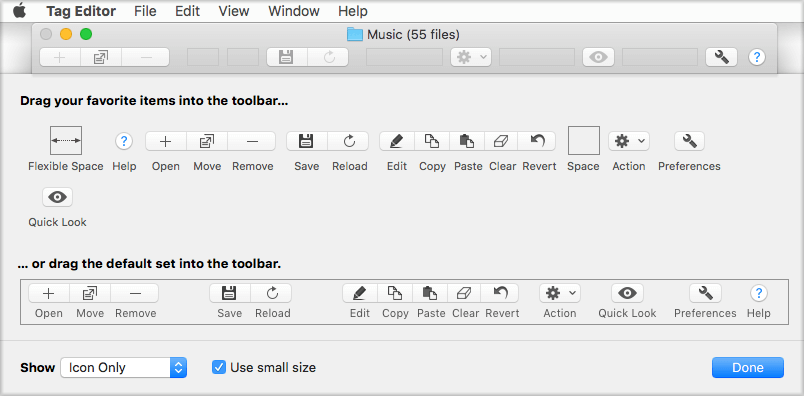 Toolbar customization in Tag Editor for Mac
---
Customize toolbar appearance
Choose View > Customize Toolbar in Tag Editor menu to open toolbar customization panel.
To change toolbar appearance, choose either Icon and Text, Icon Only, or Text Only from the Show menu at the bottom of the Customize Toolbar window.
To reduce or enlarge button size, tick or untick Use small size checkbox.