---
1. Open files
You can open a single file, folders, playlists, CUE sheets, and iTunes collections in Tag Editor. Use either dialogue window or drag-and-drop to add files in Tag Editor.
2. Show columns.
By default, Tag Editor displays columns with the most common music tags: Artwork, Album, Artist, Filename, Genre, and Comment. To see and edit other columns right-click on the table header or choose them in View > Column menu.
3. Sort and move rows.
Sorting and filtering rows speed up batch tagging.
To sort rows just click a column header, for example, "Artist". To change sorting order from ascending to descending click a column header again.
You can also insert a keyword in the search field and check the 'Filter' box to show only rows that contain the keyword.
To move selected rows to another window or tab, press the Move button in the toolbar and choose a window or a tab where files should be moved.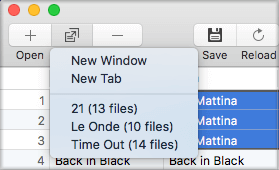 Moving selected audio tracks to another window or tab. 
---
4. Tag files.
You can tag files automatically or manually.
To load selected tags automatically press ⌘+D. In automatic mode, Tag Editor can load music metadata from online databases, iTunes, or local folders and filenames.
To edit tags manually, or to change automatically loaded metadata, use typing, Copy-Paste, and Find-Replace functions. For quicker batch tagging select multiple cells or entire column and apply changes to all selected cells at once.
5. Clean up the text tags.
'Remove Extra Characters' feature cleans audio tags out of extra spaces, text in brackets, improper punctuation characters, and digits at the start and end of tags.
In case of wrongly encoded text tags select them and choose suitable encoding in the 'Edit' > 'Fix encoding' menu.
To unify the appearance of text tags select them and choose 'Edit' > 'Change case'.
6. Add album artworks.
Tag Editor can load album artworks from local folders and iTunes, or online databases automatically. To load artworks select corresponding cells, press Command+D shortcut, and choose required options in the 'Load Tags Advanced' window.
To change album artworks manually, paste or drag an image in selected artwork cells.
7. Rename files.
You can change filenames either manually or automatically.
To change a filename manually just type or paste a new file name in the cell. You can also correct multiple filenames with Find & Replace feature.
To rename files in automatic mode, select them, click the round button next to a filename and choose renaming options.
More on renaming with Tag Editor.
---
8. Revise and save changes.
All edited cells are marked with a grey background. We recommend revising all those cells carefully before saving the changes. Once changes have been saved, they cannot be reverted.
9. Export to iTunes.
Choose File > Export To > iTunes... in Tag Editor menu bar to open 'Export to iTunes' dialogue. Select an iTunes playlist or type in a new playlist name in 'Export to iTunes' dialogue. Press Continue to finish exporting.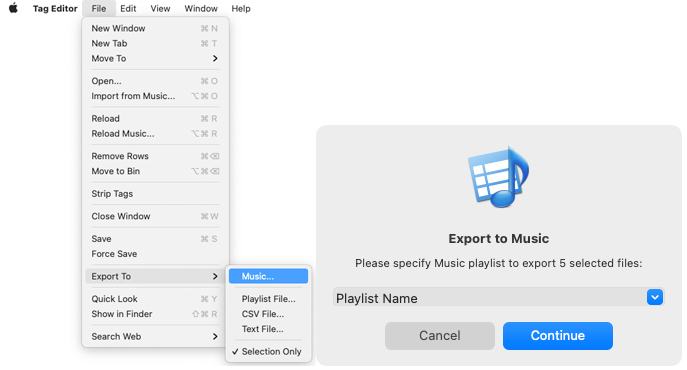 'Export to iTunes' dialogue window in Tag Editor for Mac
10. Create playlists.
Tag Editor allows creating M3U, XSPF, PLS, ASX, and WPL playlists.
To add tracks in a playlist or create a new playlist choose File > Export To > Playlist File... in Tag Editor menu bar.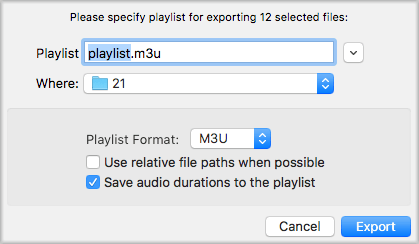 'Export to playlist file' dialogue window in Tag Editor for Mac