Convert M4A files to WAV using To WAV Converter:
Open To WAV Converter.
In the Finder, select a few M4A files or folders containing them.
Drag files, selected in the Finder, and drop them into To WAV Converter, to start M4A to WAV conversion.

Click on the links in the Progress Window to access new WAV files.
Read More: How to convert to MP3 - Getting Started >>
Read More: Improving Drag & Drop Experience >>
Conversion of M4A to WAV with saving the quality
M4A files are a type of audio file developed and popularised by Apple. MP4 and M4A files are quite similar, being both based on the MPEG-4 codec. However, M4A is a file comprising solely of audio, whereas MP4 may also contain video.
The WAV/PCM is a lossless format, while M4A audio can be encoded with lossy AAC codec. So, if you convert M4A to WAV/PCM, you get whatever imperfections existed in the M4A, meaning the WAV won't get better. However, it is possible to avoid getting it worse.
When converting a music M4A, it makes a sense to keep the quality of audio. That is, WAV Codec should be set to 'Automatic Selection.' To preserve quality, it is also essential to avoid resampling and remixing. Sample Rate and Channels should be 'As Source.'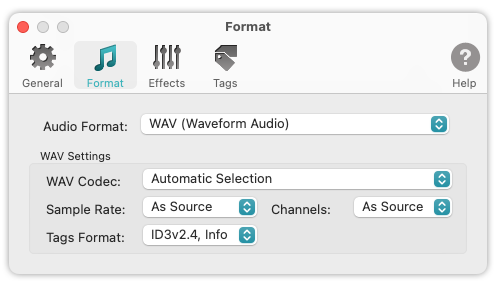 To WAV Converter for Mac - Preferences / Format
Automatic Settings applied for preserving the quality of source audio
Please note, files protected with Apple's DRM protection system, cannot be converted with To WAV Converter.
Read More: Input Formats >>