Do you need to convert lots of files from different locations on Mac?
To save your time, we recommend streamlining the conversion task by using the Drag and Drop method and running multiple conversions simultaneously. Amvidia audio converters for Mac support both drag-n-drop and multisession features. Three easy steps, listed below, improve the drag & drop experience while converting audio files with Amvidia apps on Mac.
Lock the converter window in front of other apps.
Press green button to collapse or expand the window. Collapsed converter stays on top of all other applications, making the drag and drop super easy.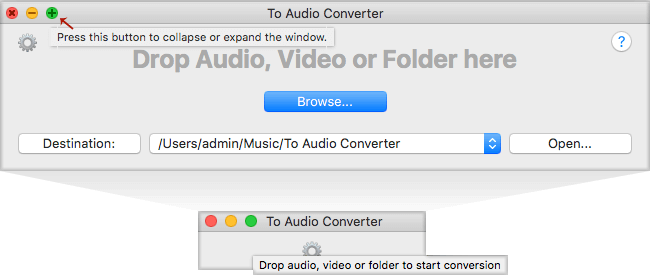 Create converter's alias in the Finder Sidebar.
Cmd + click on the application icon, and drag application icon from Dock to the Finder Sidebar.

To start a conversion, just drop the files either:
to the primary or progress window of the application.
in the Dock icon, not matter if the application was launched or not.
into the app's alias in the Finder Sidebar.