Reasons to split large audio files
Sometimes you encounter a music album, podcast, audiobook that includes just a small text CUE file (CUE Sheet) and a large audio file. You can split it into separate audio tracks or files with the CUE Splitter.
There are some reasons to do this, and one of them is trouble with how to play long audio files. Software and hardware audio players often don't support CUE Sheets and treat each large audio file as a single audio track, and this makes trouble to select and identify the individual audio tracks.
Another reason is how to play audio files of format which is not supported by your mobile device or car player.
This article introduces a CUE Splitter and a tutorial on how to split audios (FLAC, MP3, APE, WAV, OGG, or WMA) associated with the CUE Sheet. With the CUE Splitter, you never have trouble in how to play audio files on your devices.
CUE Sheet
A CUE Sheet is a text file, commonly having a ".cue" extension and describing, how the tracks of a music album or audiobook are laid out. The CUE Sheet holds such information, as Start Time and End Time of each audio track, Track Title, Track Number, Artist, Album, and more.
An example of a CUE Sheet:

REM GENRE "Symphonic Gothic Metal"
REM DATE 2010
REM DISCID 990BCA0B
REM COMMENT "ExactAudioCopy v0.99pb4"
PERFORMER "Tristania"
TITLE "Rubicon"
FILE "Tristania - Rubicon.flac" WAVE
  TRACK 01 AUDIO
    TITLE "Year Of The Rat"
    PERFORMER "Tristania"
    INDEX 01 00:00:00
  TRACK 02 AUDIO
    TITLE "Protection"
    PERFORMER "Tristania"
    INDEX 01 04:35:40
.............................................
.............................................
.............................................
  TRACK 11 AUDIO
    TITLE "Illumination"
    PERFORMER "Tristania"
    INDEX 01 42:05:39

Getting Started
To get started, download and install one of the converters below the article, supporting the CUE Splitter. The installation is straightforward.
Launch the converter and check Preferences to make sure CUE Splitter is enabled. It is on by default.
You might also check other settings, such as output format. Our converters support such output formats as MP3, MP4 (AAC and ALAC), FLAC, AIFF, and WAV with various codecs.
"Fade-In" and "Fade-Out" effects can be helpful in case of albums having no silence gaps.
You might also want to set up the destination folder, where your files will be placed.
Starting Conversion
To initiate the conversion and splitting of the large audio file, just drop the CUE Sheet, the file with ".cue" extension, to the main window.
You might also want to drop the entire folder containing a CUE Sheet and source audio file. It is the preferred way to provide rights to converters and allow them to pick up necessary artworks.
Please note that converters support the possibility of conversion of the single large audio file without splitting. To achieve this just drop the single audio file. In the case of batch conversion, please disable "CUE Splitter" in the Preferences/General window.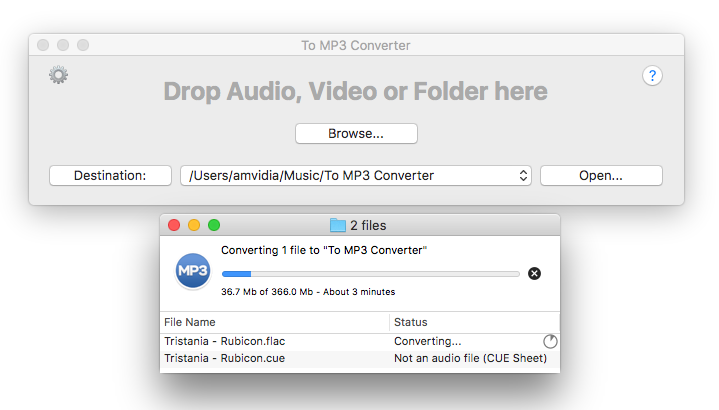 The Main Window and Progress windows. Process of conversion and splitting of FLAC file.
The converter supports true batch conversion, so as many simultaneous sessions can be started as you want. Don't wait when the previous conversion is finished. Drop in the converter as many files and folders as you need and when you need it.
Read More: Starting Conversion >>
Read More: Conversion Process >>
For troubleshooting, please check the CUE Sheet so that it contains the right paths to source audio and start conversion again. As a CUE Sheet is a text file, it can be easily changed in standard TextEdit application.
Tags Transfer
Converters support the full transfer of tags from source audio and CUE Sheets to output files. Tags, missing in source audio and CUE Sheet, can be picked up from file or folder names or loaded from online databases, if specified so in the Preferences/Tags window.
Post conversion tasks
At the end of conversion, you will find a folder with the name of the artist and album in the destination folder. You can access output audios in Finder, export them to iTunes, or open them in Tag Editor, straight from the converter.
Read More: How to access converted files in Finder >>
Read More: How to export converted files to iTunes >>
Read More: How to open converted files in Tag Editor >>