Discover the newest way of batch tagging and renaming audio files through the handy spreadsheet.
TAG EDITOR ALLOWS YOU EASILY AND QUICKLY: 
download music metadata and artworks from network (AcoustID, MusicBrainz, CoverArt);

load tags from files and folders names;

rename multiple files;

edit, copy, paste, find and replace tags;

fix encoding;

unify case;

remove extra spaces and characters;

manage artworks.
Use keyboard shortcuts, see and control all changes in one spreadsheet window. Tidy your entire audio collection by both auto and manual methods quickly and easily!
Tag Editor supports ID3 tags for MP3, WAV, AIFF, FLAC, and MP4 tags for MP4 and M4A (Apple lossless) files. More about supported formats >> .
You can download and edit Album, Album Artist, Artist, Artwork, Audio Codec, Audio Format, Bit Rate (kbps) BMP (Tempo), Channels, Comment, Composer, Copyright, Disc Number, Encoded By, Genre, Grouping, Key, Title, Track Number, Year tags.
Filenames can be changed in auto or manual mode as well. You can also see and use for tags creation columns Duration, Extension, File Name, Folder, Path, Sample Rate (Hz), Size and Tag Format.
TECHNICAL SUPPORT
Please, write us about feature requests or any problems. We always glad to improve our applications for your needs. If you like "Tag Editor", a review on the App Store would be very appreciated.

"... makes it easy for you to organize your music files,
and perform other metadata management tasks
without having to go through complicated procedures."
- mac.softpedia.com
"The program is designed to manage
large music collections easily."
- macdownload.informer.com
---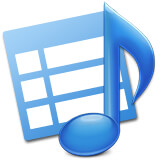 Download Tag Editor from the Mac App Store