Tag Editor interface is organized like a spreadsheet. The spreadsheet format allows editing and organizing music metadata much quicker than one-by-one tagging. To speed up the workflow even further, you can optimize the layout of columns, rows, and windows.
To optimize the layout of columns, you can hide, show, rearrange and resize them. Rows with songs can be sorted, moved between windows, added, or removed from the spreadsheet. Switching to Full-Screen mode allows maximizing Tag Editor workspace, while the adaptation of the toolbar for your working style helps to improve performance.
---
Columns Management
Amvidia Tag Editor spreadsheet has more than 30 columns. Find the full list of Tag Editor columns here >>.
Columns with tags, such as Artist, Album, Artwork, etc., as well as filenames are editable, while technical info columns are read-only. Columns layout customization helps to concentrate on important metadata and tag audio files more precisely.
Show / Hide Columns
By default, Tag Editor shows Album, Album Artist, Artist, Artwork, Comment, File Name, Genre and Title columns. To edit other audio tags or view file properties, you need to show them first. To show or hide columns in Tag Editor you can use any of the methods below:
Use keyboard shortcuts:

To show all Tag Editor columns use the ⌃⌘↑ shortcut.
To hide selected column, press ⌘↓ keys.
To hide all columns, except selected, press ⌃⌘↓ keys.
Read More: Keyboard shortcuts for showing and hiding columns. >>
Right click on a column's header and choose options from the pop-up menu, as it shown in the picture below.
Choose View > Column in the application menu.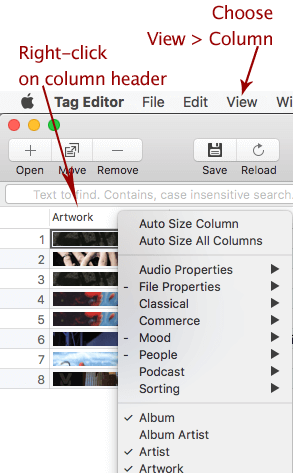 Columns management menu in Tag Editor for Mac
Rearrange Columns
Click and hold a column's header until pointer takes open hand shape. Then drag the header to the right or left of another column.
Resize a Column
Move the cursor to the right border of the column header until you see ⇹, then drag to resize.
Auto-Size Columns to Fit Their Contents
To auto-size selected columns press ⌘→ keys or move the cursor to the right edge of the column header until pointer takes double arrow shape ⇹, then double-click.
To auto-size all columns in the spreadsheet, press ⌃⌘→ keys.
Make Columns the Same Width
1. Select cells in multiple columns or select all columns with ⌘A keys.
2. Move the cursor to the right border of a column header until pointer takes double arrow shape ⇹, then drag to resize all selected columns to the same width.
Find out how to manage columns' display with keyboard shortcuts >>
---
Rows Management
Rows in Tag Editor spreadsheet represent audio files. Every cell in a row corresponds to a song's filename, tag, such as Artwork, Artist, and others; or a file property, such as Duration, Sample Rate, etc.
To streamline batch tagging, you can sort audio files, add, remove, or move them between windows. For example, you can sort a large music collection by Artist column, and then move songs between windows according to their Artist tags.
Add / Remove Audio Tracks
To add new songs for tagging, either drag them into Tag Editor window or icon, press ⌘O keys, or press + in the toolbar. Then, choose audio files in Finder.
To remove selected tracks from Tag Editor spreadsheet press ⌘⌫, or click on the 'minus' button in the toolbar.
Sort Audio Tracks
Tag Editor allows sorting audio files by a column. Files can be sorted in alphabetical order, or by increasing or decreasing numbers. When you sort, the files in the table rearrange accordingly.
To sort songs by a column, just click a column header. For example, to sort music by Album, click the Album column header. To sort songs by their Track number, click the header of Track # column.
To change sorting order from ascending to descending or backward, click the column header again.
Move Audio Tracks between Windows
To move selected files between Tag Editor windows, press Move button in the toolbar and choose a window where files should be moved.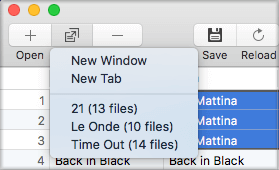 Moving selected audio tracks to another window.
---
Window Layout Customization
Full-Screen Mode
Speed up your workflow and utilize all display space using Full-Screen mode.
To extend Tag Editor window to full screen use the ⌃⌘F shortcut. Use the same shortcut to exit Full-Screen mode.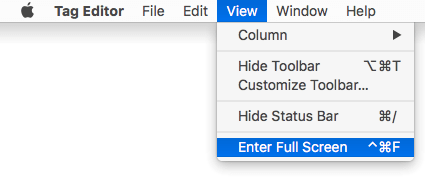 'View' > 'Enter Full Screen' in Tag Editor menu
Hide / Show Toolbar
Press ⌥⌘T keys to hide or show the toolbar. You can also choose View > Hide Toolbar or View > Show Toolbar in the Tag Editor menu at the top of your screen.
Customize Toolbar
The toolbar at the top of the Tag Editor window gives you quick access to the most used controls. To customize the toolbar for own work style, you can add, remove, resize and rearrange toolbar buttons.
1. To open toolbar customization panel right-click on the toolbar and choose Customize Toolbar in the pop-up menu. You can also choose View > Customize Toolbar in the application menu.
2. Undertake any of the following actions:
To remove items, such as buttons or spaces, from the toolbar just drag them away. Please, note that joined buttons, such Save and Reload, can not be separated and move together.
To add an item, drag it to the toolbar.
To rearrange buttons or spaces between them, drag an item to the left or right of another item. 
To restore the original set of buttons, drag the default set from the bottom of the window into the toolbar.
To change buttons layout, choose either 'Icon and Text' or 'Icon Only' from the 'Show' menu.
To reduce or enlarge buttons size, tick or untick 'Use small size' checkbox.
3. Click 'Done".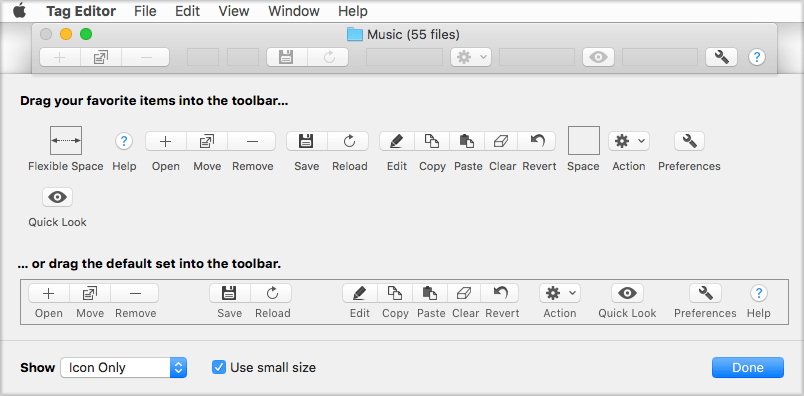 Toolbar customization in Tag Editor for Mac